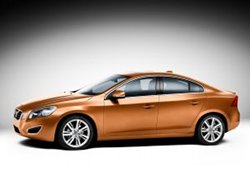 Volvo has unveiled the first official pictures of the S60. The manufacturer has opted for lines which are both fluid and sporty. The result is that the S60 is a saloon with nothing to envy of a coupe where aesthetics are concerned.
The Volvo S60 is not yet revealing much of what the manufacturer is attempting on the inside. All that is known is that the car will be fitted with a very high level of security equipment, including in particular 'Pedestrian Safety'. Based on a combination between a front camera and a radar, this automatic warning and braking device enables any collision with a pedestrian when the car is travelling at less than 25 km/h to be avoided. In the engine compartment, the innovation lies in a 1.6 EcoBoost from Ford.
To be shown at the next Geneva Motor Show, the Volvo S60 will be produced in Belgium and marketed during the second half of this year.