A V8 biturbo diesel for the Porsche Cayenne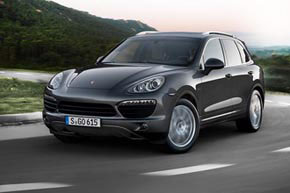 The Porsche Cayenne thus receives a second diesel engine. Of Audi origin, this 4.2 litre V8 block has been reworked to develop 385 bhp and 850 Nm. This Cayenne S Diesel reaches 100 km/h from standstill in 5.7 seconds, and its top speed is limited to 252 km/h. With 4-wheel drive, this luxurious SUV has stop&start and mixed cycle consumption of 8.3 litres per 100 km, emitting 218 grams of CO2 per km.
To improve the performance of this Cayenne S Diesel, P-Tronic already has a box unit derived from that for the Audi Q7 4.2 TDI. It enables the power of the new Cayenne to be increased to 466 bhp with 974 Nm of torque.