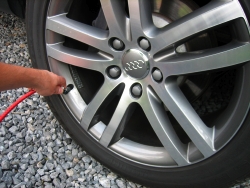 Well placed to know about these things, Michelin has released some astonishing figures about the way motorists treat their tyres? First of all, almost three out of four drivers have under-inflated tyres. Worse still, where 43% of them are concerned the tyre pressure is so low that it is considered dangerous or very dangerous. Checks carried out on motorways show that 57% of motorists are taking a risk by driving with tyres which have far too low pressures. This has persuaded Michelin to remind people of elementary advice where tyres are concerned:
- tyre pressures should ideally be checked every two weeks
- for an accurate reading, this should be done when the tyres are cold
- according to the vehicle, the pressure may be the same for all four tyres or may differ from front to rear; the information concerning this is to be found on the inside of the fuel cap and/or in the vehicle's operating manual.
- The valve dust-caps are to be tightened after every check to avoid dust getting and other dirt getting in, which can lead to air loss.