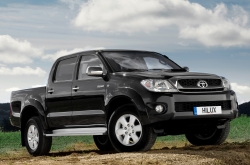 The facelift of the Toyota Hilux involves the adoption of a slightly more massive-looking grill, and new alloy wheels. Inside the cabin, the gear lever has been moved with the aim of better ergonomics. The instrumentation gains in clarity, new air conditioning has been installed and leather can now be chosen for the seats and steering wheel.
Under the bonnet, the Hilux keeps its 2.5 D-4D producing 120 bhp and 325 Nm and above all the 3.0 D-4D of 171 bhp and 343 Nm. The latter is only available in dual cab version. When it is allied to the automatic 5-speed gearbox, this engine sees its torque climb to 360 Nm.
It should also be pointed out that the suspension of the Hilux has been improved and that the VSC stability control system is now offered as standard on the 3.0 D-4D versions.