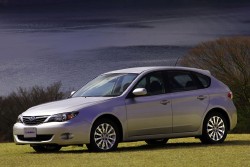 So, the Subaru Impreza is soon to get a diesel engine! Nothing short of blasphemy for aficionados of the brand, who won't be too happy either with the new, more sober look, a look which moves it back towards the pack.
The engine will be a 3.0 litre, keeping faith with the boxer architecture so dear to Subaru. A four cylinder unit on a new plate, whose conception should only generate weak vibration. Production will start at the end of the year and marketing will begin in the autumn of 2008. While they're at it, Subaru are also to fit the Subaru Legacy with this engine in 2009.
For the manufacturer, the reasons behind this choice are simple: they want to increase European sales by 40% by 2010, to reach 100,000 vehicles sold.