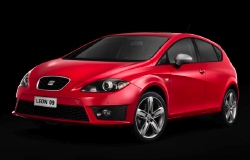 The Seat Exeo has followed the path already used by the Seat Leon, Altea, Altea Freetrack and Altea XL. The 2009 versions of these models are already offered with 2.0 TDI Common Rail engines producing 170 bhp and 350 Nm. This is an engine to which P-Tronic can fit the new generation of digital additional box units, twice as cheap as those for the previous models!
On the occasion of this facelift, the Leon and Altea receive a slightly redesigned grill, new rear view mirrors, a larger rear window and renewed cabin materials.
Where safety is concerned, the Seat Leon, Altea and Altea XL will now be fitted with ESP, traction control and emergency braking assistance as standard. Leon buyers will be able to add the XDS option, an auto-blocking electronic differential unit which stabilises the vehicle if it loses grip.