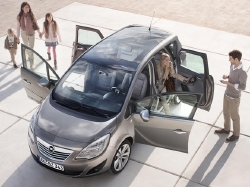 The new Opel Meriva will be on show at the Geneva Motor Show. Staying close to the concept version which preceded it, it is audacious enough to be the first in this segment to propose a FlexDoors door opening system. This inversed device makes entry to the rear seats even easier as the doors are independent, of normal size and have a wider opening angle than classic doors.
The Meriva also evolves on the design front. Less smooth than its predecessor, it has an altogether bolder character.
In the engine compartment, Opel has scheduled 6 petrol and diesel units, producing power levels ranging from 75 to 140 bhp. These engines will be allied to 5 and 6-speed manual boxes, with an automatic also available.