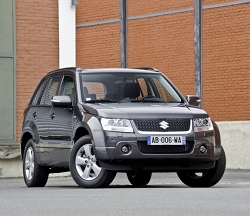 The design of the Suzuki Grand Vitara is evolving very gently. The radiator grill and spoiler have been renewed, the side indicator repeaters are now fitted to the rear view mirrors and 17 inch alloy wheels are fitted as standard. Evolution inside the cab is more obvious. The Grand Vitara inherits illuminated steering wheel controls and black-look wood finishing. The instrumentation has been re-considered. LCD displays are to be found, along with manual air conditioning regulation.
Not much change in the engine compartment, where the 129 bhp, 300 Nm
1.9 DDiS continues to set the standard. Work has been put in to reduce noxious emissions to 185 grams of CO2 per km. This engine can still be fitted with the CPTBN02 P-Tronic additional box-unit which supplies an extra 38 bhp and 79 Nm.