VW Beetle Cabrio: soft top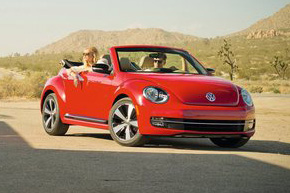 Expected for next spring, the VW Beetle Cabrio will be shown at the Los Angeles Motor Show. No change under the bonnet where the TDI and TSI share the honours and can still be fitted with a P-Tronic box unit. Coming to our markets in 2013, the Volkswagen Beetle Cabrio is shortly to be unveiled in California. It is no surprise that the convertible keeps its soft top which is electrically retracted into its back-pack housing behind the rear seat. This operation takes 10 seconds and can be carried out at speeds up to 48 km/h.
The VW Beetle Cabrio has exactly the same engine options as the coupe. For diesels, this means the 105 bhp 1.6 TDI and the 140  bhp 2.0 TDI with 5 and 6-speed manual gearboxes and DSG6 and 7. In petrol versions, we find the 1.2 TSI 105 bhp, the 1.4 TSI 160 bhp and the 2.0 TSI 200 bhp. With the exception of the 1.4 TSI all of these can already be fitted with a P-Tronic electronic additional box unit.