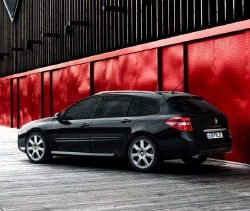 These changes are not fundamental. To such a degree that they can't be described as a facelift, but an update. Nevertheless, the evolution of the Renault Laguna is of interest. On the styling side, the generalisation of the GT finishing can be seen across all models where the front of the car and the rear lights are concerned. There are also changes in materials and colours, along with equipment levels, with an integrated navigation system including parameter setting now available.
Better still, the 4Control (all four wheels steering) can now be had with the 2.0 dCi 130 and150 bhp engines as well as the dCi 180 bhp and 2.0T petrol 205 bhp.
The 1.9 dCi 110 bhp, with fuel consumption announced at 4.9 litres per 100 km, will shortly be available with a FAP, while the 2.0 dCi 150 bhp, which inherits the electric power steering system, will only consume 5.3 litres per 100 km. These sober figures are achieved in particular thanks to optimisation of the gear ratios, with the three top gears having been lengthened.