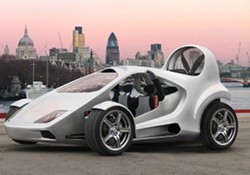 It may seem to come right out of science fiction yet? the Parajet Skycar is in the process of bringing reality to an age-old dream: designing a machine which can both drive on the roads and fly!
Somewhere in between a beach buggy and a microlight, this device has been born of the imagination of two Brits. It is fitted with a Yamaha engine developing 140 bhp and running on bio-diesel. This enables it to reach 180 km/h on the road, with a range of 400 km. Acceleration is a stupendous 0 - 100 km/h in 4.5 seconds, and it can fly at 120 km/h, with a range of 300 km, thanks to the combination of a rear-mounted propeller and a para-glider wing. Changing from one format to the other takes just 3 minutes on the stop-watch.
The Parajet Skycar already exists in a stripped down version which its designers used on the London to Timbuktu rally, but they are planning to produce a more enclosed version from next year (see photo).