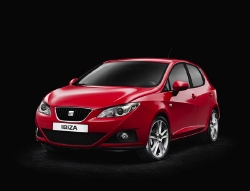 Having unveiled the concept in Geneva, Seat will officially present this new Ibiza in Madrid next month. Designed by Belgian Luc Donckerwolke, this Ibiza is more distinguished, sporty and dynamic than its predecessor. But the evolution has taken place with care and refinement. The grill and front lights are lower, and the track wider. The model has also lost 25 kg in weight. The levels of equipment and security have been revised upwards.
The Seat Ibiza will have a choice of six engines under the bonnet, including three TDI units which P-Tronic has already been successfully equipping for some time. These are the 80 bhp1.4 TDI, and the 90 and 105 bhp 1.9 TDI.
The 5-door model will go on sale first. We will have to wait for the end of the year to see the 3-door.