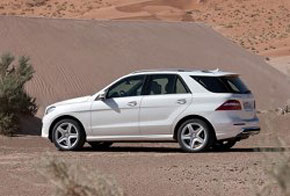 The design of this model is extremely soft on the outside. In the cab, things are much more radical. The dials are rounded and a control screen makes its appearance on the upper part of the dash. Equipment and options are increased: roll control, driving aids, multimedia equipment
In the engine room, the 204 bhp 250 CDI Bluetec has laid claim to the entry level position, accompanied by the 258 bhp 3.0 V6 350 BlueEfficiency and a V6 petrol engine. They are allied as standard to the new 7G-Tronic gearbox and to a start&stop device.
The release of this Mercedes ML is scheduled for November. This will be accompanied by the marketing of P-Tronic additional box units adapted for these Bluetec and BlueEfficiency engines.