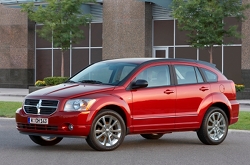 No use looking on the outside. The modifications applied to the Dodge Caliber during its face-lift only involve the inside of the vehicle.
The look of the cab has been reworked. Alongside the new instrument console, the colouring, materials and textures have been modified; Chromed metal, satinised silver and soft-touch plastic also play their part.
But the major element of this evolution involves the engine compartment where the new common rail turbo-diesel is introduced. This 2.2 unit from Mercedes develops 163 bhp and 320 Nm. It benefits from fourth generation common rail technology, particularly efficient in terms of sound emissions and vibrations, just the areas in which the Caliber needed to improve.