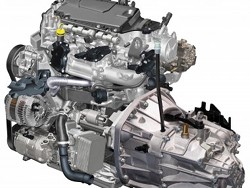 This new 2.3 dCi carries a heavy weight on its shoulders. Developed on the base of the 2.0 dCi used on Renault's larger models, it replaces the four cylinder 2.5 dCi and 3.0 dCi on the Master utility vehicle. It will then take up residence in other models of the Renault-Nissan alliance.
The injection has been revised (7-hole injection) the piston diameter enlarged and a driving chain replaces the driving belt.
The aim of this operation is to obtain economies of scale, and reduce the engine's consumption, emissions and operating costs without affecting performance.
On offer with power levels of 100, 125 and 150 bhp, this 2.3 dCi sees its torque increased. Fuel consumption drops by between 1 and 2.7 litres per 100 km according to version, and CO2 emissions drop by an average of 10%. And where maintenance savings for the vehicle are concerned, these are estimated at 1,800 Euros over 4 years or 150,000 km.
P-Tronic is currently working on a new additional box unit to improve the performance of the 2.3 dCi even further.