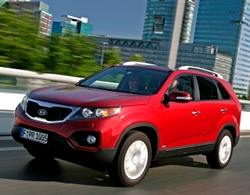 The least that can be said is that Kia has learned the lessons of the past. The new Sorento corrects its aim at practically all levels.
Some 10 cm longer than the previous model, it offers a more modern look, more refined and more directed towards urban users. The Sorento benefits from an entirely re-designed interior, substantially more functional, better equipped and better finished. It is also able to accommodate two extra passengers thanks to foldable seats placed in the boot.
Under the bonnet, alongside the two petrol engines (a 2.4 litre producing 174 bhp and a 277 bhp 3.7 litre), a new 2.2 diesel supplying 197 bhp and 420 Nm will be able to be allied to a manual or automatic 6-speed gearbox. This engine becomes all the more attractive in light of the fact that the Sorento, now of monocoque construction, has shed 215 kg and that the transmission is now essentially directed to the front wheels. The P-Tronic additional box unit for this engine will be available very shortly.