Honda CR-V – scaled down model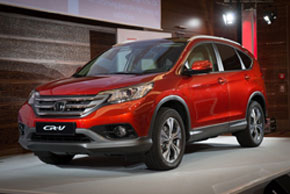 The Honda CR-V has seen its dimensions reduced. Lower and shorter, it nevertheless loses nothing in interior accommodation. Quite the opposite – by placing the windscreen 60 mm further forwards, the driver is able to find an optimal driving position and the boot gains an extra 140 litres in volume.
There is very little evolution in the engines. The 150 bhp 2.2 i-DTEC will remain the best seller in our markets. It can still be equipped with the PT-A-81061 P-Tronic box unit which enables it achieve power of 193 bhp and torque of 444 Nm. In petrol version, Honda has announced the 155 bhp 2.0 i-VTEC 155 which can be accommodated in a two wheel drive version.