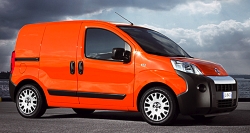 The result of a new cooperation agreement between the Fiat and PSA CitroŽn groups, the Fiat Fiorino, Peugeot Bipper and CitroŽn Nemo represent a new concept in light and compact utility vehicles. Just 3.86 metres long, of which 2.5 metres are usable, and with a loadable volume of 2.5 m_, these new arrivals are at once functional, comfortable and well equipped as standard (including ABS and driver's airbag).
The Fiorino, Bipper and Nemo are fitted with the 70 bhp 1.4 litre HDI diesel from PSA Peugeot CitroŽn, an engine whose performance can be particularly well improved by P-Tronic.
Marketing of the Fiat Fiorino started in December 2007 on the Italian market. Other markets and the other versions will follow at the beginning of 2008.