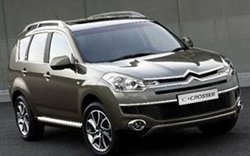 The CitroŽn C8 will now be based on two Euro-5 engines: the 135 FAP and the HDi 160 FAP allied to a 6-speed manual gearbox or a BVA for the HDi 160. Two new finishing levels are on offer: Airplay and Exclusive.
The C-Crosser also receives the Airplay finish (multiple airbags, automatic airco, ESP, ASR, mode selection for 4x4?) which is associated with the HDi 160 FAP engine and the manual box.
As for the CitroŽn Jumpy Combi, it also inherits the HDi 160 FAP engine with the 6-speed box in its 8/9 seat L1H1 version. An engine allied to the Atalante finishing level including manual air conditioning, heated electric rear view mirrors, automatic lights and windscreen wipers, and a speed regulator.