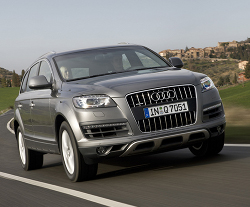 Launched at the end of 2005, the Audi Q7 is having its first surgery. The new touches are fairly light. Under a grill which takes on chrome in the form of vertical bars, the lower part of the bumper is in a body-contrasting colour. LED lights are integrated into the skirts and the light cluster. The skirt and lights have been reworked at the rear, too.
The cabin does not come in for any revolutionary changes either. The instrument console receives metal-framed dials. There has also been work carried out on the materials and colours.
Moving on to the engine compartment, the 3.0 TDI V6 240 bhp now requires only 9.1 litres of diesel per 100 km. A 'clean diesel' version reduces emissions (Euro-6) and decreases consumption to 8.9 litres per 100 km through the use of the AdBlue additive. For its part, the 4.2 TDI V8 moves up to 340 bhp with torque remaining identical at 760 Nm, and fuel consumption decreased from 11.1 to 9.9 litres/100. through optimisation of the engine management and lightening of the model's weight. And finally, the 6.0 TDI V12 remains in the range, still 'armed' with its 500 bhp and 1000 Nm.