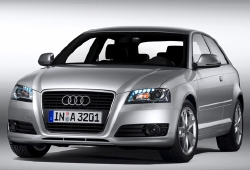 The first change to be noted in the A3 and A3 Sportback is in their front look. Just like the cabriolet model, these are also to receive lights with diode light 'eyebrows'. These headlights sit alongside a reworked bonnet and skirt.
In the engine compartment, there are modifications to the 1.9 TDI and 2.0 TDI engines. The adoption of a new Common Rail and the configuration of the engines constitute the innovations. The principal aim of this is to reduce diesel consumption. The new 105 bhp 1.9 TDI thus uses only 4.5 litres per 100 km.
And finally there has been an evolution in the transmission. The 2.0 TDI is fitted as standard with the 6-speed box and all engine options can be allied to the 7-speed S-Tronic box with dry clutch.