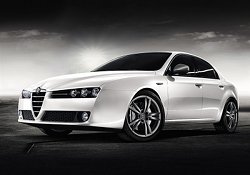 While making the clientele wait for a new model to be launched, Alfa Romeo has made a few modifications to its 159.
It receives dynamic VDC stability control with emergency braking and hill start assistance.
Just as on the MiTo and Giulietta, the Alfa 159 can now be obtained in Sport, TI, Comfort and Comfort Plus finishing levels. Chrome or brushed black aluminium elements can be fitted to the cab while the saloon version can sport 18 inch wheels and benefit from lowered suspension.
There is also a small change under the bonnet where the 2.0 JTDM producing 170 bhp sees an ECO version added. It has longer gear ratios and lower rolling resistance tyres. The result is 136 grams of CO2 emitted by the saloon and 139 grams by the Sportwagon. The P-Tronic CIP200 box-unit remains suited to this upgraded Alfa Romeo 159 2.0 JTDM, whose performance levels can be thus increased by 42 bhp and 81 Nm.